Iso Lomso Visiting Scholar Cara Stacey of the School of Music, North-West University is a musicologist, composer and multi-instrumentalist, and winner of the 2022 Standard Bank Young Artist for Music award.
In her seminar she introduced her research providing an overview of her study of the makhweyane gourd-resonated musical bow, some broader reflections on the cultural and historical role of music, as well as introducing her new project on water, drought and song.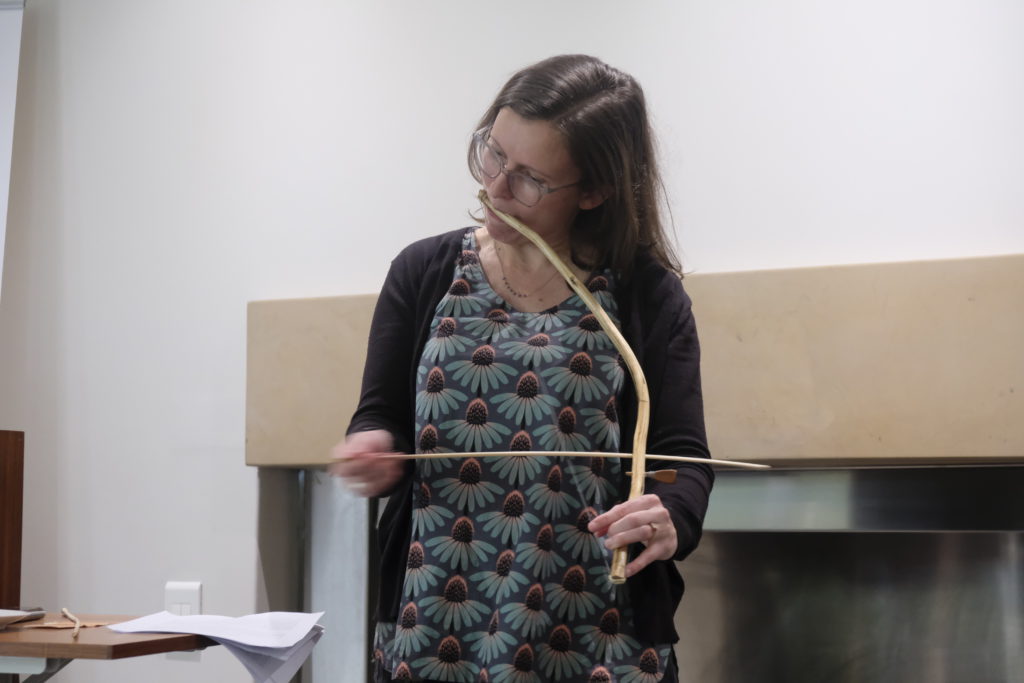 She described her work as divided between "classical and ethno musicology – although that terminology is contested. I'm interested in looking at music in culture overall, rooted in feminist scholarship and decolonial critique."
"I have one foot in musicology and another as an active musician," she added.
Rare and fragile
Stacey learnt to play the umrhubhe mouth bow from Dizu Plaatjies – teacher, legendary musician and former leader of Amampondo. "I owe him everything. He changed how I listen to sound and made me a happier musician – healing me of some of the traumas of playing classical music. Bows have been my creative inspiration for 17 years and my academic pathway."
She described musical bows as rare, fragile instruments. "We don't know exactly when or how they started but they came from hunting bows and arrows and spread in Africa through migration. The wood is chosen from a young tree for its flexibility and as the sound produced is relatively quiet, a resonator, usually a calabash, is used – manipulation of the calabash allows for more complex melodies to be created while changing the mouth shape."
"Every time we make a sound something vibrates – whether skin or a string," she continued. "We usually hear one dominant low note but it's composed of a whole lot of sounds heard simultaneously. You can highlight the higher notes in the harmonic series."
"The harmonic series is important in how the instrument works. It's all about hearing a smudge of sound with resonance and harmonics. Singers think like that but on classical instruments you aren't always taught like that. Now I hear harmonics wherever I go. I can play one note and let it sit hearing a cloud of music around it. It's a spectral way of thinking about sound."
She played excerpts from two examples – Gogo Mantombi Matotiyana from her album Songs of Greeting, Healing and Heritage, 2019 and Mrs Nogcinile Yekani from the album Magical Music Bows.
Stacey pointed out that many of these musicians play mostly for their own enjoyment. "Playing to myself is the best listening experience," she added. "Playing for everyone else is a compromised listening experience – which is unusual."
"The instruments can be temperamental, and you feel your way to a good sound which makes it difficult to put on stage and get to the point the instrument is singing."
This means that combining the bows with other instruments can be challenging and mic-ing and recording the music is often unsuccessful.
"But the music inspires a different way of listening. There are repetitive cycles but variation within. The level of motor and musical skills and innovations in the ways of playing add to the beauty of the music with skilled musicians being able to play with the harmonics, melodies and counter melodies."
She also highlighted that there are very few remaining musical bow musicians and most are old, and there is some anxiety about the traditions dying out.
But in addition to learning the techniques needed to play, Stacey's work has highlighted the cultural significance of these instruments and players, and, more broadly, is trying to understand what constitutes southern African music and how people articulate their life experience in music. "The music functions as an archive and also a form of radio where people broadcast personal stories and political commentary. The music created for the Swazi makhweyane serves as an important source of information relating to love, power, old-age, subsistence farming and the weather."
As another example she focused on the annual Umhlanga or Reed Dance ceremony in which a key feature is the beautiful choral music as different songs are sung simultaneously in an "incredible sonic experience. It's a mass visual and musical event," she explained. "It's also an example of song as archive – living in both the past and present. It highlights music's ability to relate natural history."
She will unpack all of this in detail in a book she is finalising with long-term collaborator – musician Vusi Sibandze.
eSwatini roots
Most of Stacey's research has been done in eSwatini (formerly Swaziland) where she lived from the age of 12 but can also trace a longer link through her great-grandparents. She described it as a country with a chequered and complicated geography and political past, in which recent protests calling for democratic reform have resulted in violent crackdown.
Her new project aims to explore ideas surrounding water, storms and drought within the musical world of eSwatini.
"As a country plagued by severe and regular drought and as southern Africa moves permanently into a state of water stress, the early findings show how local musical forms of expression can portray ideas relating to water in this country. In eSwatini, water is intrinsically linked to cattle (and so, to wealth and prosperity), to ecology and rural life, to domestic, cultural and commercial work, and to spiritualism. Within the rich world of Swazi religious and cultural belief, water is a key signifier of power, communication and change."
She is hoping to understand how water has underlined many aspects of pre- and post-colonial cultural and spiritual life in this landlocked country, understand how music has portrayed water and investigate the forms these lyrical associations take as local hydroscapes are drastically altered by environmental and climate flux.
"In the precolonial system of belief storms, rain, rivers and water play an important role. Drought signifies the anger of the ancestors and the need to appease the spirit world."
"The supreme god, Mvelinchanti, is closely associated with the animals and land of this kingdom, with the river pools, the sea and lightning being symbols of, or homes to other notable spiritual and ancestral beings. In order to retain power, the bemanti ('people of the water') and belwandle ('people of the sea') are involved in water collection rites for the king. These diverse meanings associated with water can be read in a variety of musical songs and genres. From regimental songs performed at the annual Incwala (or Kingship) ceremony to makhweyane bow songs about courtship, the themes of rain, water, rivers and the sea perform a lyrical and relational function through these musics."
"Water, storms, sea and drought are richly symbolic and shape the history of the country. Climate change is now being mirrored in song and music. I'm looking at water as a lens of the Swazi cultural imaginaries."
Michelle Galloway: Part-time media officer at STIAS
Photograph: Christoff Pauw